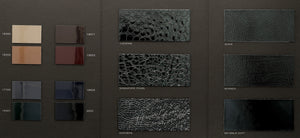 Embossed Patents
Sale price Price $65.00 Regular price
Tax included.
BULK ORDERS: 3$/sqft by air
Price is for ONE Half Skin (2 square meters average)
For Bags and Shoes
Produced by one of the best tannery in the world for this kind of article. Years of the experience can bring soft and firm which in this article is difficult to achieve.
Shiny and Sleek looking and Thermosetting Test is approved, it means that the leathers have max 90 degrees resistance, this would bring safe and guarantees on production stage. 
Best fashion seller embossed patents